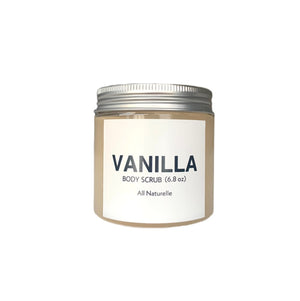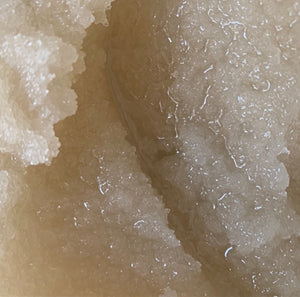 Vanilla Body Scrub
If vanilla is your kind of scent, then this is your kind of body scrub.
Step out of the shower smelling like sweet vanilla!

What does it do?
• A natural exfoliant that buffs away dead skin cells and welcomes fresh, new skin cells
• Moisturizing oils to hydrate and heal your skin, keeping it healthy and glowing
• A heavenly vanilla scent that will make you feel and smell goood!
Directions

Use scrub once a week and gradually increase to 2-3 times a week to achieve the best results. Wet your skin and use about 2 handfuls of the scrub to cover your body.  Massage the scrub on your skin in circular motions.
Ingredients
Sugar (Sucrose), Sweet Almond Oil (Prunus Amygdalus Dulcis), Vitamin E Oil (Alpha-Tocopherol), Vanilla Essential Oil (Vanilla Oleoresin).
إذا كانت الفانيليا هي الرائحة الي اتحبي ، ف مقشر الجسم هذه مناسب لك.
اخرجي من الاستحمام ويكون ريحتك الفانيليا!
ماذا تفعل؟
• مقشر طبيعي يزيل خلايا الجلد الميتة ويرحب بخلايا الجلد الجديدة
• زيوت مرطبة لترطيب وشفاء بشرتك والحفاظ عليها صحية ومتوهجة
• رائحة الفانيليا التي ستجعلك تشعري ويكون ريحتك رائعة!
طريقة الاستخدام
استخدمي المقشر مرة في الأسبوع وزيدي تدريجيًا إلى ٢-٣ مرات في الأسبوع لتحقيق أفضل النتائج. بللي بشرتك واستخدمي حفنة من المقشر لتغطية جسمك. دلكي المقشر على بشرتك بحركات دائرية.