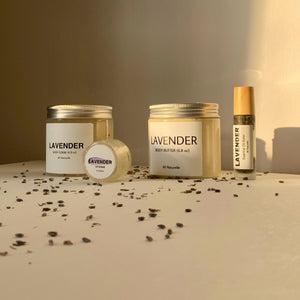 Cloud 9 collection

Are you looking for a way to de-stress and unwind after a long day? 
Introducing the magic of Lavender essential oil.
It is known to:
• Clearing up breakouts
• Soothing redness
• Helping you fall asleep
• Healing minor cuts and scrapes
• Relieve stress & boosts your mood
Treat yourself or your loved ones to the ultimate self-care gift with Lavender essential oil. 
This collection includes:
1. Lavender Body Butter
2. Lavender Body Scrub
3. Lavender Lip Scrub
4. Lavender Essential Oil Roller
هل تبحثي عن وسيلة للتخلص من التوتر والاسترخاء بعد يوم طويل؟
أقدم لك سحر زيت اللافندر الأساسي.
من المعروف أن:
• تلطف الاحمرار
• تساعدك على النوم
• تشفي الجروح والخدوش الطفيفة
• تخفف التوتر وتحسين مزاجك
دللي نفسك أو أحبائك بهدية العناية الذاتية المطلقة بزيت اللافندر الأساسي.
تشمل هذه المجموعة:
1. زبدة الجسم باللافندر
2. مقشر الجسم باللافندر
3. مقشر الشفاه باللافندر
4. أسطوانة زيت اللافندر الأساسي