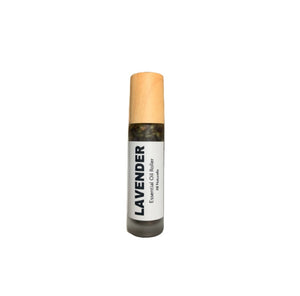 Lavender Essential Oil Roller
Bring relaxation with you wherever you go with the lavender essential oil roller!
This little bottle is packed with big benefits, such as:
• Vanishing breakouts with its natural antibacterial properties
• Soothing your nerves and tackling anxiety
• Helping scars fade away with tissue growth promotion
• Moisturizing and soothing eczema-prone skin
And when it's time to catch some rest, let this gentle roller be your guide to a peaceful and restful sleep.
- 10 ml roller bottle
Ingredients
Sweet Almond Oil (Prunus Amygdalus Dulcis), Lavender Essential Oil (Lavandula angustifolia), Vitamin E Oil (Alpha-Tocopherol), Dry Lavender Buds.
Shelf life
2 years
خذي الاسترخاء معك وين ما رحتي باستخدام بكرة زيت اللافندر الأساسي!
تمتلئ هذه الزجاجة الصغيرة بفوائد كبيرة ، مثل:
• تلاشي الجروح بخصائصها الطبيعية المضادة للبكتيريا
• تهدئة أعصابك ومعالجة القلق
• المساعدة على تلاشي الندبات مع تعزيز نمو الأنسجة
• ترطيب وتلطيف البشرة المعرضة للإكزيما
وعندما يحين وقت الراحة ، اجعلي هذه الأسطوانة اللطيفة دليلك لنوم هادئ ومريح.
مدة الصلاحية

سنتين