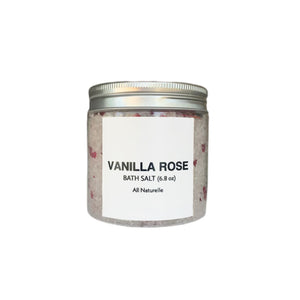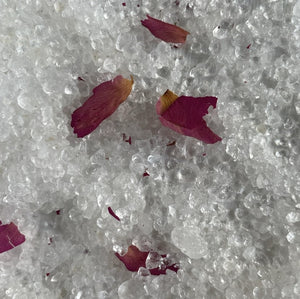 Vanilla Rose Bath Salt
Get ready for a bath time treat that will leave you feeling refreshed and rejuvenated!
The Vanilla Rose Bath Salt is a luxurious blend of rose and vanilla essential oils that promises to cleanse, soothe, and pamper your skin. 
Think of it as a spa day in a jar! 
The rose essential oil will help smooth out rough skin and keep it hydrated, while the vanilla essential oil will act as a natural healer, defending your skin against infection and inflammation.
Note: Don't have a bathtub? No problem! This bath salt can also be used as a hand/foot soak or shower scrub.
Directions
With bathtub:
Fill the tub to the desired level, pour a generous handful to warm running water, sit back and relax.
Without a bathtub, as a hand/foot soak:
Add half a cup of bath salt in warm water, and let it dissolve. Soak feet in for 15-20 minutes or hands for 10 minutes.
As a shower scrub:
Grab a handful of the bath salt and rotate gently in circular motions on the skin. 
Ingredients
Sweet Almond Oil (Prunus Amygdalus Dulcis), Vanilla Essential Oil (Vanilla Oleoresin), Rose Essential Oil (Rosa Damascena), Dead Sea Salt (Sodium Chloride), Vitamin E Oil (Alpha-Tocopherol), Dry Flower.
استعدي لوقت الاستحمام الذي سيجعلك تشعري بالانتعاش والتجدد!
ملح الاستحمام برائحة الفانيليا هو مزيج فاخر من زيوت الورد والفانيليا الأساسية التي تعد بتنظيف بشرتك وتهدئتها وتدليلها.
يساعد زيت الورد الأساسي على تنعيم البشرة الخشنة والحفاظ على الترطيب ، بينما يعمل زيت الفانيلا الأساسي كمعالج طبيعي، ويحمي بشرتك من العدوى والالتهابات.
ملاحظة: ليس لديك حوض استحمام؟ ما مشكلة! يمكن أيضًا
استخدام ملح الاستحمام هذا كمنقع لليدين / القدمين أو مقشر للاستحمام.
طريقة الاستعمال
مع البانيو:
املأي الحوض إلى المستوى المطلوب ، واسكبي حفنة لتدفئة المياه، واجلسي واسترخي.
بدون حوض استحمام ، كنقع لليد / القدم:

ضيفي نصف كوب من ملح الاستحمام في ماء دافئ واتركي يذوب. نقعي القدمين في الماء لمدة ١٥-٢٠ دقيقة أو نقعي اليدين لمدة ١٠ دقائق.
مقشر للاستحمام:
أحضري حفنة من ملح الاستحمام وقومي بتدويره برفق في حركات دائرية على البشرة.