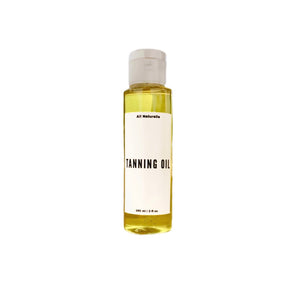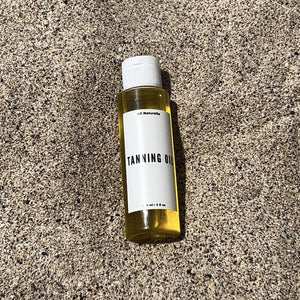 Tanning Body Oil
This bottle of goodness is filled with hydrating oils that'll help you achieve your desired tan in no time.
Not only will you spend less time in the sun, but your skin will also be nourished throughout the process.
The tanning oil doesn't stop there, use it after your tanning session to maintain that glowing, moisturized skin. 

Note: one of the key ingredients is coconut oil which solidifies in cool temperatures.
If this happens, place the bottle in a warmer area until it melts & shake before use.
Directions
Always apply sunscreen and wait until it's fully absorbed in the skin before applying the tanning oil.
Lather the oil on your body and soak under the sun for 15-20 minutes on one side then flip over and repeat the process.
Shelf life
1.5 - 2 years
تمتلئ زجاجة الجودة هذه بالزيوت المرطبة التي ستساعدك على الحصول على السمرة المرغوبة في أي وقت.
لن تقضي وقتًا أقل في الشمس فحسب ، بل ستتغذى بشرتك أيضًا.
زيت التسمير لا يتوقف عند هذا الحد ، استخدميه بعد جلسة التسمير للحفاظ على بشرة متوهجة ورطبة.
ملحوظة: أحد المكونات الرئيسية هو زيت جوز الهند الذي يتجمد في أماكن باردة
إذا تجمد ، ضعي العلبة في مكان أكثر دفئًا حتى تذوب وهزيها قبل الاستخدام
طريقة الاستعمال
ضعي الكريم الواقي من الشمس دائمًا وانتظري يمتص بشرتك الكريم قبل استخدام زيت التسمير.
قومي برغوة الزيت على جسمك واجلسي تحت أشعة الشمس لمدة ١٥-٢٠ دقيقة على جانب واحد ثم اقلبي وكرري العملية.
مدة الصلاحية
١.٥-٢ سنة