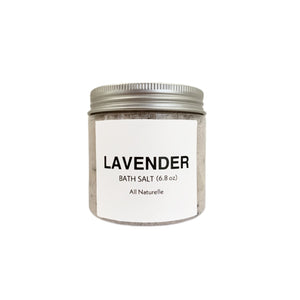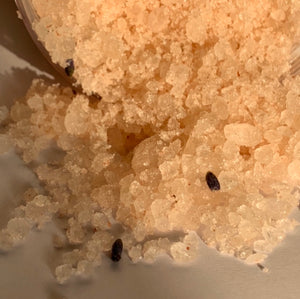 Lavender Bath Salt

 Escape the stress of the day and enjoy a calming soak in a bed of relaxation.
The bath salt and oils also aid in softening your skin and soothe any muscle aches or pain you may have. 
Wake up feeling like a whole new person. This is the recipe for the ultimate beauty sleep!
Note: Don't have a bathtub? No problem! This bath salt can also be used as a hand/foot soak or shower scrub.
Directions
With bathtub:
Fill the tub to the desired level, pour a generous handful to warm running water, sit back and relax.
Without a bathtub, as a hand/foot soak:
Add half a cup of bath salt in warm water, and let it dissolve. Soak feet in for 15-20 minutes or hands for 10 minutes.
As a shower scrub:
Grab a handful of the bath salt and rotate gently in circular motions on the skin. 
Ingredients
Epsom Salt (Magnesium Sulfate), Pink Himalayan Salt (Pink Halite), Sweet Almond Oil (Prunus Amygdalus Dulcis), Vitamin E Oil (alpha-tocopherol), Dry Flower, Lavender Essential Oil (Lavandula Angustifolia).
تخلصي من ضغوط اليوم واستمتعي بنقع هادئ ومسترخي.
يساعد ملح الاستحمام والزيوت أيضًا في تليين بشرتك وتهدئة أي آلام في العضلات قد تكون لديك.
استيقظي وأنت تشعيري وكأنك شخص جديد تمامًا. هذه وصفة لنوم جميل في نهاية المطاف!
ملاحظة: ليس لديك حوض استحمام؟ ما مشكلة! يمكنك أيضًا استخدام ملح الاستحمام هذا كمنقع لليدين / القدمين أو مقشر للاستحمام.
الاتجاهات
مع البانيو:
املأي الحوض إلى المستوى المطلوب ، واسكبي حفنة لتدفئة المياه ، واجلسي واسترخي.
بدون حوض استحمام ، كنقع لليد / القدم:
ضيفي نصف كوب من ملح الاستحمام في ماء دافئ واتركي يذوب. نقعي القدمين في الماء لمدة 15-20 دقيقة أو نقعي اليدين لمدة 10 دقائق.
مقشر للاستحمام:
أحضري حفنة من ملح الاستحمام وقومي بتدويرها برفق في حركات دائرية على البشرة.