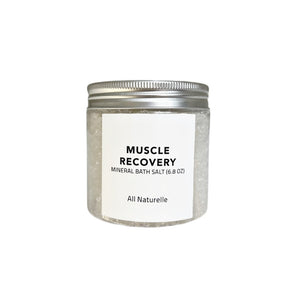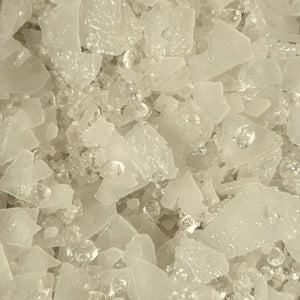 Muscle Recovery Bath Salt
Looking for a post-workout fix for those achy muscles?
Transform your bath into therapy with the muscle recovery bath salt.
It is specifically designed to help reduce muscle soreness and give you the ultimate relaxing experience.
The secret ingredient is magnesium flakes! These tiny wonders penetrate your skin and help:
• Soothe sore muscles, reduce inflammation, and ease tension
• Relieve stress and headaches
• Strengthen bones
• Revitalize skin health
Take a soak and let your body thank you.
Note: Don't have a bathtub? No problem! This bath salt can also be used as a hand/foot soak or warm compress.
Directions
With bathtub:
Fill the tub to the desired level, pour a generous handful to warm running water, sit back and relax.
Without a bathtub, as a hand/foot soak:
Add half a cup of bath salt in warm water, and let it dissolve. Soak feet in for 15-20 minutes or hands for 10 minutes.
As a warm compress:
Dissolve a scoop of bath salt in warm water, then take a washcloth, and soak it in the salt solution, before applying it to the sore area. Repeat regularly for maximum effect.
Ingredients
Dead Sea Salt (Sodium Chloride), Magnesium Flakes (Magnesium chloride flakes), Sweet Almond Oil (Prunus Amygdalus Dulcis), Peppermint Essential Oil (Mentha piperita), Eucalyptus Essential Oil (Eucalyptus Essential Oil), Rosemary Essential Oil (Rosmarinus officinalis L.).
هل تبحثي عن علاج بعد التمرين لتلك العضلات المؤلمة؟
حوّلي حمامك إلى علاج بملح حمام استعادة العضلات.
مصمم خصيصًا للمساعدة في تقليل وجع العضلات ومنحك تجربة الاسترخاء المطلقة.
المكون السري هو رقائق المغنيسيوم! هذه العجائب الصغيرة تخترق بشرتك وتساعد على:
• تهدئة آلام العضلات وتقليل الالتهاب وتخفيف التوتر
• تخفيف التوتر والصداع
• تقوية العظام
• تنشيط صحة الجلد
ملاحظة: ليس لديك حوض استحمام؟ ما مشكلة! يمكن أيضًا استخدام ملح الاستحمام هذا كنقع لليد / القدم أو كمادة دافئة.
طريقة الاستعمال
مع البانيو:
املأي الحوض إلى المستوى المطلوب ، واسكبي حفنة لتدفئة المياه ، واجلسي واسترخي.
بدون حوض استحمام ، كنقع لليد / القدم:
ضيفي نصف كوب من ملح الاستحمام في ماء دافئ واتركي يذوب. نقعي القدمين في الماء لمدة ١٥-٢٠ دقيقة أو نقعي اليدين لمدة ١٠ دقائق.
ضغط دافئ:
قومي بإذابة ملعقة من ملح الحمام في ماء دافئ ، ثم خذي منشفة ، وانقعيها في محلول الملح ، قبل وضعها على المنطقة المؤلمة. كرري بانتظام للحصول على أقصى تأثير.