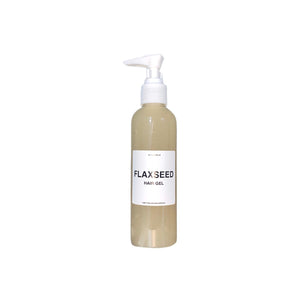 Flaxseed Hair Gel
Get ready to transform your hair with the flaxseed gel.
Whether you have curly, wavy or straight hair, it is a miracle gel for all!
What are the benefits?
• A boost of vitamin E and omega-3 fatty acids to fight dryness, frizz, and promote growth.
• Improved elasticity and reduced breakage, leading to strong, healthy hair.
• Defined curls and great hold.
• Moisturized and revitalized hair, thanks to flaxseed gel's humectant properties.
• Say goodbye to dullness and hello to vibrant hair.
NOTE: After applying the gel, you'll feel a cast (a crunchy feel). Either using your hands, oil, t-shirt, or silk scarf, start scrunching your hair upwards. Continue until the cast is gone, then use your fingers to gently shake your roots for extra volume.
Direction
1. Shampoo and condition your hair as you usually would. 
2. Detangle and section your hair before applying the gel.
3. Start applying gel on each section.
For more hold, use more gel. For less hold, use less gel.
4. Once the gel is applied evenly on the hair, scrunch to help encourage your curl pattern to take shape.
5. Wait until dry & scrunch out any crunch to get the amount of fluff and volume you desire.
Shelf life
6 months to a year.
استعدي لتحويل شعرك باستخدام جل بذور الكتان.
سواء كان شعرك مجعدًا أو مموجًا أو سيدة ، فهو جل معجزة للجميع!
ما هي المنافع؟
• فيتامين E وأحماض أوميغا 3 الدهنية لمحاربة الجفاف والتجعد وتعزيز النمو.
• تحسين المرونة وتقليل التكسر ، مما يؤدي إلى شعر قوي وصحي.
• تجعيد الشعر والثبات الرائع.
• شعر مرطب ومنعش بفضل الخصائص المرطبة لجل بذور الكتان.
• قولي وداعًا للشعر الباهت ومرحبًا بالشعر النابض بالحياة.
ملاحظة: بعد وضع الجل ، ستشعر بملمس مقرمش. إما باستخدام يديك أو الزيت أو القميص أو الوشاح الحريري ، ابدأي في تحريك شعرك للأعلى. استمري حتى تختفي ملمس المقرمش ، ثم استخدمي أصابعك لهز الجذور برفق.
طريقة الاستخدام:
1. اغسلي شعرك بالشامبو والبلسم كالمعتاد.
2. فكي تشابك شعرك وقسمي قبل وضع الجل.
3. ابدأي بوضع الجل على كل قسم.
لمزيد من الثبات، استخدمي المزيد من الجل. لتقليل الثبات ، استخدمي كمية أقل من الجل.
4. بمجرد وضع الجل بشكل متساوٍ على الشعر ، فركي الشعر للمساعدة في تحفيز شكل تجعيد الشعر.
5. انتظري حتى يجف وقومي بإزالة أي قرمشة.
مدة الصلاحية
٦ أشهر إلى سنة.